Paying for our Books Online
You do NOT need a PayPal account in order to purchase our books!
All you need is a credit or debit card. Here are the instructions below:
---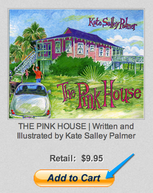 1) Click on the "Add to Cart" button to add the book to your shopping cart.

---

2) This is your cart window. Here you can change quantities, update and remove items. If you want to continue shopping, just press the CONTINUE SHOPPING button.


3) When you're ready to CHECK OUT, just press the CHECK OUT button.
---
4) After pressing CHECK OUT, you will be directed to the check out page. Your order summary will appear (blue box)


5) To finish your order with a debit or credit card, click on the area in the red box. Fill in your card information and PayPal will SECURELY process your card and the ordering information will be sent to us!